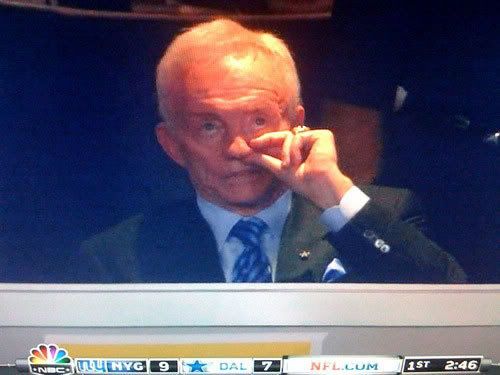 I truly wish I had the ability to perfectly sum up an image with three words like the esteemed gentleman sitting next to me at an Upper East Side establishment did Sunday night.
Immediately after Bruce Johnson returned the first of three Tony Romo interceptions for a touchdown, the fine people at NBC caught Jerry Jones dredging away, which prompted a perfectly timed comment above the noise of the bar.
"That's a billion dollar booger!"
Kudos to you, Mr. Philip Hammerstein.
Meanwhile, to the surprise of absolutely nobody, the Giants spoiled opening night at Jerry's palace, mostly due to the fact that they were the only team there with a quarterback who isn't a bumbling fool.
While St. Eli was shredding the Cowboys defense and calmly driving his team to the game-winning field goal in the final seconds, Tony Romo was embarrassing himself and anyone who has ever thrown a football against a depleted Giants secondary. Let's be honest, if the Cowboys had a competent quarterback, it's almost certain the Giants would have lost.
Fortunately, they have Captain Overthrow.
Once again, Eli faced a defense loading the box to stop the run and daring him to beat them, and for the second week in a row he got the job done. It's only a matter of time before teams start to realize that the Giants actually do have receiving options. Thanks to Mario Manningham's coming out party on national TV, I think that'll be sooner rather than later.
He and Steve Smith combined for 284 of Eli's 330 passing yards and both of his touchdowns. Manningham now has TDs in both games this season, and so far is showing signs that he is more than capable of being a big time target.
As was the case last week, the red zone offense was again an issue, although both of Eli's TD passes were from the 22 yard line so it's not as bad as it looks. They'll have plenty of chances to get that figured out over the next three weeks against the Bucs, Chiefs and Raiders.
Defensively, I'm not thrilled with allowing 251 yards rushing, although a lot of that came after Flozell Adams took Justin Tuck out of the game with one of his customary cheap shots. He's got a well-earned reputation, and I can only hope that when the Cowboys come to New York later this season, Tuck takes out his anger on Adams by forcing him to eat Tony Romo's spinal cord.
But I digress.
Ultimately, the point is that the Giants have two NFC East wins already, and three games they SHOULD win before they go to New Orleans in Week Six. After that game, they will have played four of six on the road, and should be no worse than 5-1.
Speaking of the Saints, they pounded the Eagles at home, and while you can make all the excuses you want about Donovan McNabb missing the game, but it doesn't really matter since last time I checked he didn't play defense.
Meanwhile, the Giants other NFC East "rival", the Washington Redskins, managed a whoppping 9 points against a Rams team playing its second straight road game to start the year. If Donnie Avery could put the ball away, it's likely the Rams would have left DC with a win, and left the Redskins 0-2.
Point being, the Giants are clearly the class of the NFC East.
As for the rest of the league:-How amazing is Peyton Manning?
The guy spent 75% of the game standing on the sideline watching the Colts defense get shredded by the Dolphins, then got the ball twice in the 4th quarter and lead TD drives of 79 and 80 yards to win. Oh, and after the game his first comment to the dreadful Suzy Kolber was that he had to do it just to keep up with Eli.
-Congrats to the New York Jets
, who talked all week, then backed it up by beating the Patriots and holding them without a touchdown. Just don't tell me it was because of Mark Sanchez, not yet. He looked decent, but Darrelle Revis was their best player. That Jets defense may be legit. For occasional poster P Money's sake, I hope this isn't yet another in a long line of Jets teases.
-Good for the Chicago Bears, first win of the Jay Cutler era.
I had to mention them, otherwise one of my friends will get mad that I'm ignoring his team. So congrats, you managed to win a home game when the opposing kicker shanked two FGs. Start planning that trip to Miami for the Super Bowl.
-Shaun Hill and the 49ers: 2-0.
Remember when the Maryland football team was good for about 5 minutes? Now they do things like lose back-to-back years to Middle Tennessee.
-Finally, fantasy football kudos
to Chris Johnson, Eli Manning and Ronnie Brown, who combined to score 95 of my 117 points this week. They were apparently not pleased that they were not invited to my opponent's wedding this weekend, and took out their frustration accordingly.
Meanwhile, my WRs Randy Moss and Roy Williams combined for a whopping 3. Wake up, fellas.
I'll have a Peter King-esque annoying travel note coming from the trip to the aforementioned wedding later this week. I'll preview it by saying it involves flirtatious flight attendants, multiple on-board cocktails, a naval veteran and a female cyclist.
Stay tuned for that one. And for a reminder of my previous travel adventures, go back to the
first post in this blog's history
.